The Story of Town Hall Pizza: from Dragoni, Italy to Berrien Springs, Michigan
On February 27th we will officially be Town Hall Pizza!!

While we have worked hard for this moment and are very excited, we totally understand that for others, with a collective 49 years of wonderful and amazing memories and experiences with Roma's, this could be disappointing. So, allow us to explain…

This was a legal/transactional decision that was made before we officially purchased Roma's Pizzeria and Italian Restaurant on November 19, 2018. Simply put, the name, "Roma's," did not come with the sale of the restaurant. The Maceratas were selling their restaurant's property, the assets (e.g., ovens, equipment, etc.), and many of the recipes. But not the name.

And we don't blame them. We are not their children, their close family members, or even long-term employees. We were complete strangers. We, too, would be hesitant to sell to strangers a name that we had spent a life time building and which has earned an outstanding reputation over its 49 years.

In the purchase of their restaurant and following, the Maceratas have been nothing but generous, kind, and supportive of us. They allowed us to continue to operate under the Roma name for three months to help us in the transition. Tony worked alongside of us to teach us how he does what he does: make the most amazing tasting pizzas! Glayne was patient to explain systems and procedures and answer every question we had, even calling from time to time as things would come to her mind that were important for us to know for our future success.

From the moment of purchase forward, we have been more and more humbled and grateful to be a part of the legacy and iconic standing Roma's has had in this community. The truth is, we didn't just buy a great restaurant, we received a treasure in Berrien Springs that has an amazing history and reputation. We are very aware that the Maceratas' 49 years of hard work and great reputation provided us with a customer base that would have taken us years to establish, if ever. And we are SO thankful to Tony & Glayne as well as the entire Macerata family.

One of the reasons we were attracted to this purchase came when we met Karen Hopkins, who owns the photography studio next door. As we toured the second floor of the building (which we own), she explained that it was the original Town Hall of Berrien Springs. With all of the historical remnants still attached, our hearts got excited to think about all of the history that has taken place on this property since at least the 1860's. We began to devour Berrien Springs history from authors like Robert Myers, visited the Historical Society, and fell in love with one of the oldest buildings - and civic centers - of Berrien Springs!!! The original Town Hall of what is now the Village of Berrien Springs.

And thus, on February 27th we will be Town Hall Pizza.

We hope to continue two amazing and captivating stories. The story of the Macerata family that begins in Dragoni, Italy and finds its fruition in an amazing restaurant serving Southwest Michigan for the past 49 years. And second, the story of the actual historical function of the property we now own - the original Town Hall of Berrien Springs!!!

For those who will always know, think, and even refer to the restaurant as Roma's, we totally understand! 🙂 And don't worry - it won't offend us at all! We have come to love all that that name represents as well.

We look forward to continuing to serve this community as a focal place of gatherings, celebrations, and amazing food! From Dragoni, Italy to Berrien Springs!! We are humbled and truly honored to participate, and hopefully advance, this amazing story.

We look forward to serving you, your family, and your friends, some amazing meals at Town Hall Pizza soon!

With excitement and true gratitude -
Sam Barrington & Jennae Gee, co-owners of Town Hall Pizza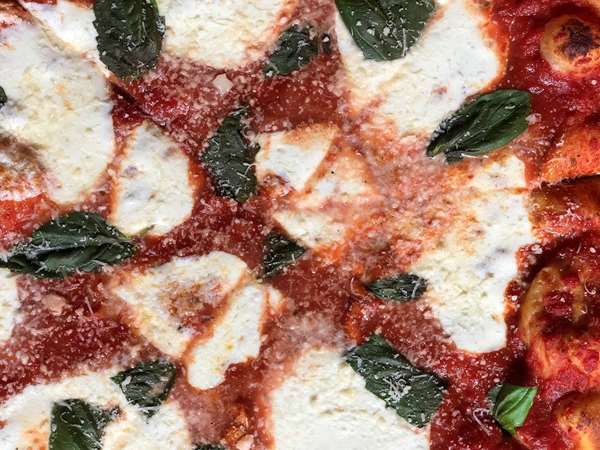 Come get to know us and interact on Facebook, where we love to tempt you with our most recent creations and have a good laugh at the same time!
Just the other day, we were introducing you all to The Margherita like this:
"This pizza is The Margherita. It is a simple but classic pizza. Our delicious sauce with slices of fresh mozzarella topped with fresh basil, light salt, olive oil, and parmesan.

"Fun fact: King Umberto I and Queen Margherita visited Naples in 1889. Bored with the snooty French cuisine (pfft…the French and their cuisine 🇫🇷🙂), they wanted to try some pizza from the city's Pizzeria Brandi. The Queen's favorite was called the pizza mozzarella. It contained the colors of the Italian flag. 🇮🇹 🙌 From then on that particular topping combination was known as…the Margherita. 🍕

"Another lesser known fact: While the Queen was eating her pizza the owner of Pizzeria Brandi came out, took a seat, and said, "So let's talk about this tax bracket I'm in." When the queen refused to answer, he slapped the parmesan cheese shaker from her hand and stormed out yelling, "NO ANCHOVIES FOR YOU!!!!!!!" The King, already fighting with the queen over the temperature of the air conditioner in their horse-drawn carriage, was so amused by the man's actions, he gave the man a full tax abatement (he would later use the money saved and build a taco stand but it failed as the locals never took to it) and declared it a law, under penalty of death, that you can never put anchovies on a Margherita pizza.

#comingsoon #newmenu #newhours #townhallpizza